Old vs. New - The Latest and Greatest in Building! But is it Really?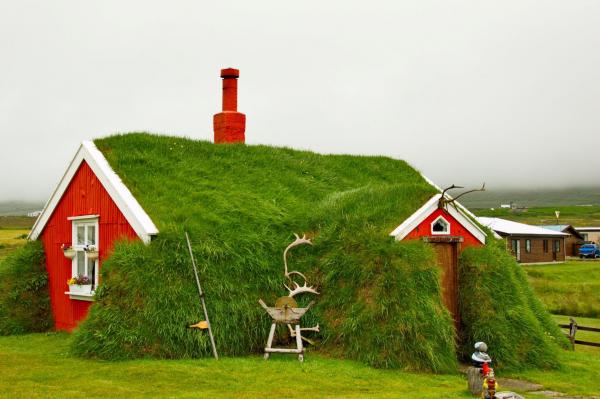 Am I on the leading edge or the bleeding edge? Should I be an early adapter? What are the risks? What are the rewards? Recently, I was asked how to approach a builder's show so that you can learn about all the new things you should be using in and/or doing to your homes to make them better. The simple answer is - don't bother, you already know how to build a good home.
Of course, it's not really that simple and there are benefits to going to a builder's show. I like them for the trends I can identify and what it tells me about the home buying public. For example, the growth in better door locks, security systems and outdoor lighting says a lot about how security conscious we are becoming. That should give you some hints about how to design your neighborhoods and landscaping; always provide good sight distances and few places to hide.
And there are always things to learn about more efficient tools and useful software for design, estimating and accounting. Running your business more efficiently should be an ongoing pursuit. At any builder's show, it's always fun to see the new "WOW FACTOR" products. Operable glass walls, whirlpools with audio functions and lifts for multilevel car storage are all impressive.
But what about the new materials? How fast should you move to integrate new sheathing, plumbing or electrical wiring into your homes? In my opinion, after 40 years of observing the home building industry, not fast at all! In fact, you should move slowly and deliberately.
Why? Two main reasons come to mind.
First, the home you sell to someone should not be a laboratory or test site for some new material. People buy homes expecting them to last a long time. Most appraisals assume the remaining service life of a home to be 50 years. I have seen homes built with "leading edge" materials and "revolutionary" construction techniques that will not outlast their first mortgage! Among other things, you are selling confidence to your buyers that their new home will have a long life. If you don't have time proven confidence in the materials you are using, you will not meet the expectations of your buyers.
Second, there are many examples of new products offered with comprehensive promises of long term performance that fail far short of meeting those promises. Let's look at a few:
Fire Resistant Plywood (FRP): in the 1990s the Mid-Atlantic States were hit hard with the consequences of improperly treated plywood introduced after the fire codes changed in the late 1980s. NAHB once said that as many as one million housing units east of the Mississippi may have been affected. There were many lawsuits, disrupted lives and failed contractors in the aftermath of that situation.
Wood alternative decking: One large manufacturer recently (2014) settled a large class action lawsuit alleging that the product was prone to mold and discoloration. We are aware of several situations where wood alternatives are not living up to the original, claimed performance expectations.
Low VOC coatings: achieving NAHB's National Green Building Standard (NGBS) or USGBC's LEED rating means using low VOC (volatile organic compounds) coatings. A large coating manufacturer faces a major class action lawsuit for one of its low VOC coatings, alleging that it did not perform as claimed and emitted a strong, persistent odor. This kind of environmental complaint can lead to air quality complaints and personal injury claims.
Cementatious siding: some early versions (early 2000s) are not performing as promised. Class action lawsuits have been filed. Owners are facing the cost of residing their homes long before any settlement is achieved. The Latest and Greatest! But is it really? BY H. ALAN MOONEY, P.E. President, Criterium Engineers Running your business more efficiently should be an ongoing pursuit. www.homebuilders.org MAY/JUNE 2014 MID-ATLANTIC BUILDER 39
Inner Seal Siding by Louisiana-Pacific: the scale of this problem was such that some considered the entire company to be at risk in the 1990s. To their credit, LP worked hard and spent a lot of money to help those who experienced losses due to the premature deterioration of the product. However, for those homeowners and builders involved, there was significant stress and disruption.
Polybutylene piping: PB pipe was introduced as flexible, easy to install, resistant to freezing and inexpensive. It was produced from about 1978 to 1994. It was installed in 6 – 10 million homes in the United States. There were many failures either caused by chemical reactions to public water or improper installations (often over tightening connections), or both. Several manufacturers paid hundreds of millions of dollars in settlements. In all cased, homeowners and builders suffered, financially and emotionally.
Spray Polyurethane Foam Insulation (SPF): Complaints were filed in Pennsylvania in 2013 alleging that the material is off-gasing toxic chemicals after installation. This is reminiscent of the problems with urea formaldehyde foam insulation back in the 1980s and 90s. Those complaints led to withdrawing the product from the market.
These are just a few examples of building products that failed to meet manufacturers' promises. More credible detail on all of these can be found on the Internet. In most cases, the manufacturers of these products are strong enough that they learn from the early mistakes and improve their products. Usually, second and third generation products are much better or, if the first round of problems were financially or functionally severe enough that product is withdrawn, sometimes, the company goes out of business.
Testing and improvement are important. But should you or your buyer be part of that test group? I don't think so. Even the best laboratory testing cannot duplicate the actual conditions a material will be subjected to once it has been part of a real building for 10 to 20 years. And lab conditions do not consider improper installation. In some cases, the only way you can know if a product is any good is to put it in place and watch what happens. Sometimes that means that the home sold to a customer is a test site. The majority of the homes I have seen built by members of the Home Builders of Maryland are well built. I encourage you to avoid the temptation of trying a new material, no matter how compelling the claims and warrantees from the manufacturer. Today, more than ever, new products are rushed to the market to stay ahead of the competition. Keep in mind that you are building something intended to last 50 years or more.
You build a good house now, you don't have to change. Let others test the new products. Once time proven (and that's usually 10 years or more), then you can adapt. In the meantime, you can adapt some of those time saving tools (as long as they don't compromise the quality of you home!) you saw at the last builders show or even add one or two of those "wow factor" items to excite your buyers. As for the primary materials in your homes, the "latest and greatest" often is not.