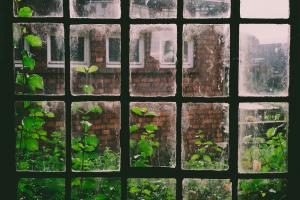 Perhaps by now the March wind-driven weather has convinced the Board it has water infiltration problems, not to mention air infiltration issues.  Interior gypsum board ceilings and walls are starting to stain; floors are beginning to get wet and warp; and unit owners are complaining of mold formation.  Often the answer is not façade re-siding or a new roof surface but rather a need for new caulk.
The best water proofing materials in any building do not depend on adhesive properties.  These materials are impermeable; they are shingled or overlaid; and they depend on gravity and drip edges.  But adhesion does have a place in creating a weather resistant building envelope.  Properly selected good quality caulks and sealants are needed in key locations such as around doors and windows; roof penetrations; the boundary between dissimilar materials; siding corner joints; etc.  The problem is caulks and sealants tend to have useful lives significantly shorter than the materials they are applied to and there are too many caulks and sealants to choose.
So let's talk about caulk.  Let's take the mystery out of which type of caulk to use for each of the many applications found in any building.  Certainly the Board or Building Committee can depend of their engineer or architect or contractor to provide good advice on caulk selection or methods of installation, but having a basic understanding of caulking will give the process a better chance for success.
The first questions to resolve about each caulk project are its longevity; flexibility of the joint; cure time available; and ease of clean up.  The issues are further complicated by the many different type of construction materials used today; likely weather conditions; whether this is a new caulking application or a re-caulking application; and the future application of paint.  Therefore, let's first consider the properties of the typical caulks selected in condo projects:
Acrylic latex:  This is sometimes referred to as 'elastomeric caulk' and is the most widely used and easiest caulk to apply for both interior and exterior projects.  It has more elasticity than straight 'latex' caulk which is more suitable for interior work.  Both can be painted but are not as flexible in wide temperature ranges as the high performance caulks and they must be applied in ambient temperatures of more than 40 degrees F.  They should never fill spaces greater than ¼ inches and have a useful life of 10 years.  These caulks are easy to clean up as they are water based.
Butyl:  This rubber based caulk has been available for a long time and is still very affordable.  Its stringy nature does not make it suitable for a clean, finished appearance but it has good adhesion characteristics and is very water resistant making it a good applicant for roof component repairs; walkways; and exterior joints with lives of up to10 years.  Butyl should not come in contact with modified bitumen flashing tapes or rubber roof membranes.
Silicone:   These are very water and UV resistant caulks with moderate adhesion qualities but will stick to almost any non-porous surface with joints up to ¼ inch wide.  They do not bond well to unpainted wood and can degrade masonry or stone.  They are very flexible even in severe temperature gradients.  They are difficult to work with and do not hold paint well.  Because of their oily residue, once silicone is used to seal a joint, it should be used to reseal the joint.  Some of the silicone with hybrid additives such as acrylic compounds can have useful lives of up to 20 years.
Polyurethane:  This is often the professional exterior caulk of choice as it is versatile, water resistant, and very flexible enabling it to span up to 2-inch joints.  It can handle a wide temperature range and adhere to virtually any material including wet surfaces.  It comes in a limited number of colors but once cured it holds paint well.  Additives can be applied to give it good UV resistance allowing it to have one of the longest useful lives of all of the caulks.
The key to a successful caulked joint is the caulk bonds to both sides of the joint and it can tolerate the anticipated movement of the joint without tearing or breaking the adhered surface.  Selected caulks should meet the ASTM standard C920 @+/- 12.5%.  For joints wider than ¼ inches a backer rod of foam is pressed into the joint to form a barrier to minimize the depth of the caulk bead to ½ inches deep.  As the backer rod does not permit the caulk to adhere to it, it prevents a three-sided bond subject to tearing.
Whether your condo façade is clad in wood or vinyl; stone or brick; EIFS or stucco; glass curtain wall or metal, you need to caulk periodically.  The selection of the proper caulk and the method of application will go a long way to determining the length of time between applications.